For those of you who are unfamiliar with Isolite technology, we're excited to tell you more about it. The Isolite System is a dental tool that illuminates the mouth during exams and procedures. It consists of a customizable mouthpiece for each patient with enclosed LED lighting that brightens the mouth from the inside. Once an Isolite mouthpiece has been placed into a patient's mouth, the system is completely hands-free and provides many perks for the patient as well as our Cypress Springs staff. Here are a few reasons why we love using the Isolite system: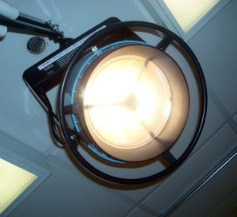 Procedural Safety
One of the most important benefits provided by Isolite is improved procedural safety. The amount of clear, bright, adjustable light that pours into the mouth makes it possible to conduct procedures and exams with no shadows inside the mouth. This results in less eye strain for your dental staff and a much clearer picture of your oral landscape. The Isolite System's mouthpiece is also single use, so there's never any chance of cross contamination. The mouthpiece also improves your safety by retracting and protecting your cheek and tongue while keeping the dental field dry with the Isolite evacuation system. The safety perks are tremendous.
Patient Comfort
Another great benefit of Isolite technology is the increased comfort it provides to our patients. The mouthpiece has a built in bite block so you can easily and comfortably rest your jaw during treatment. Additionally, the mouthpiece itself is softer than your gums and is available in all shapes and sizes to accommodate patients of all ages. Our patients also love the fact that there's less light light shining in their eyes during the exam. The internal illumination provided from inside the mouth prevents the need for strong overhead lights being aimed toward the exam chair.
Reduced Procedure Time
Isolite not only increases your safety and your comfort, but it also reduces your procedure time by 20%-30%. How? By providing a more efficient experience. The Isolite System delivers light, retraction, and suction simultaneously. It also makes it possible for our dental staff to have uninterrupted access to their working site. Both the upper and lower quadrants of your mouth are simultaneously accessible and the system extinguishes the need for cotton rolls and rinse breaks. All of these advantages result in an exciting perk for our patients—less time spent in the dental chair!
Isolite is truly an important technology and one that we're proud to offer at Cypress Springs Family Dentistry. We invite you to come in and experience the difference for yourself.