When to Straighten Your Teeth
There are a lot of reasons to straighten your teeth, and there are a lot of ways to do it. But you may not know that there are many unique times in your life when it might be best to straighten your teeth.
In general, dentists begin considering the potential need to straighten a patient's teeth around 8-10 years of age. But people of all ages can get their teeth straightened—there is never a bad time! But there are certain times when it makes more sense.
Cypress dentist, Dr. Kyle Todd, is a professional and local provider of orthodontics and teeth straightening treatments. Read below to learn our tips for deciding if it's time to straighten your teeth.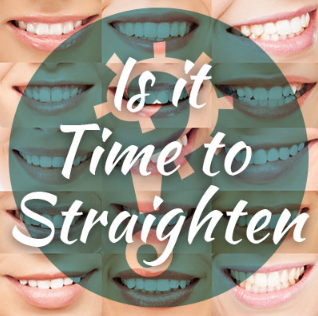 Time for Aesthetic Teeth Straightening
If you're self-conscious of your smile at all, it's time. If you cover your mouth when you laugh or if you avoid social situations because you're not confident, correcting your smile is absolutely worth it. Your smile is your own personal accessory and it's the first thing people notice. You deserve to feel proud of it.
Before having pictures taken or a big life event. These are specific times when you want to feel naturally confident in your smile. Consider straightening your teeth with enough time to enjoy the results during an important time of life, whether that's a wedding, graduation, or starting a new career.
If you've recently gotten in shape or overcome a health obstacle, getting your teeth straightened can be the final element to celebrate your new, healthy self!
Time for Functional Teeth Straightening
Before cosmetic dentistry: straightening your teeth is often the first step to any major cosmetic work. This is to make sure that all of your results will be shaped properly in line.
Mysterious headaches could be caused by an unhealthy bite or teeth alignment. Straightening your teeth can relieve the pressure that causes pain in your mouth, face, head and neck.
Prevent decay: correcting your smile is an excellent way to prevent further damage if you experience repeated build-up of plaque and decay on certain crooked teeth. This can also prevent chronic bad breath or dangerous gum disease.
Sleep apnea and allergies are some of the most common medical reasons to straighten your teeth. Improving the shape of your mouth and jaw can go a long way in improving these problems.
It's Time!
Of course, in real life, function and aesthetics are often connected. The adjustment period to starting orthodontic treatment is very short, like 24 hours, and shouldn't get in the way of anything you want to do. As Benjamin Franklin said:
"Don't put off to tomorrow what you can do today."Cypress Springs Family Dentistry in Cypress is the right place to begin your journey toward straighter teeth. Call us today to make an appointment to learn more and receive a professional consultation. The most important part of timing your teeth straightening is beginning as soon as you're ready.