Cosmetic Dentistry in
Cypress, Texas
Realize Your Smile's Full Potential
If you are unhappy with any aspect of the appearance of your smile, chances are you are not living up to your full potential. A straight, white smile can make all the difference! It can help you in attracting a romantic partner, landing that new job, and boosting your confidence, which has effects that radiate into all areas of your life.

If you're interested in improving any aspect of the look of your smile, we would love to speak with you about cosmetic dentistry. And if you're hesitant to spend money on something purely cosmetic, know that many cosmetic procedures can even improve the function and the health of your smile!
At Cypress Springs Family Dentistry, we're proud to offer several options for invisible and short-term orthodontics. We also offer traditional braces to help patients of all ages feel confident in a straight smile. Straightening your teeth not only improves your appearance and confidence, but it can also help improve oral hygiene as well as the health of your bite and TMJ.
Learn more about our invisible and short-term orthodontic options on our Orthodontics page.

If you would like to correct several aspects of your smile, but don't want to endure multiple different and potentially lengthy treatments like orthodontics, restorations and teeth whitening, veneers might be just the solution you are looking for. Veneers can correct a number of cosmetic grievances in one fell swoop, including teeth that are:
Crooked or gapped
Oddly shaped or sized
Yellow or discolored
Cracked or broken
Lumineers® are the #1 patient-requested brand of veneers because they are thinner than traditional veneers, making them more conservative as they require less removal of healthy tooth structure. To learn more about Lumineers®, check out our Veneers page or contact your Cypress dentist today!
An unfortunate fact about teeth is that they tend to age just as we do, and some of our favorite vices – coffee, tea, red wine and tobacco – only speed up the process. If you have a special event coming up, like a wedding, reunion, or anniversary, or you're just tired of looking tired, a professional teeth whitening treatment could be just what you need to take years off your appearance, improve your smile and give you the confidence boost you deserve!
If you're interested in a teeth whitening treatment with your Cypress dentist, Dr. Kyle Todd at Cypress Springs Family Dentistry, check out our Teeth Whitening page for more information, or give us a call today and schedule an appointment!
Cosmetic bonding, or tooth bonding is both an aesthetic and restorative treatment to correct a number of imperfections in the teeth. We simply paint a tooth-colored resin over the visible surface of the tooth or teeth to improve the look of your smile. This is the simplest way to correct minor imperfections, including teeth that are:
Crooked or gapped
Oddly shaped or sized
Yellow or discolored
Cracked or broken
If you think your smile could benefit from a simple cosmetic tooth bonding treatment, give us a call today!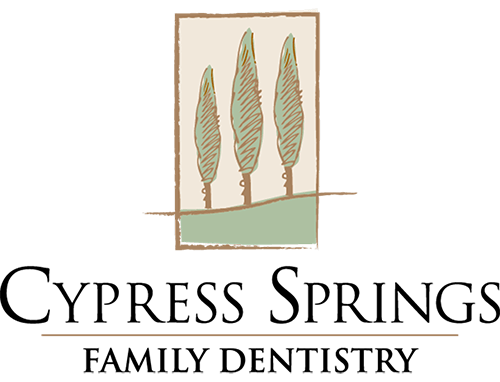 Request an Appointment