General Dentistry in
Cypress, Texas
Prevention is the Best Medicine
At Cypress Springs Family Dentistry, our primary goal is to keep your smile happy and healthy for life. In this mission, we're proud to offer quality general dentistry. We provide the preventive care services your smile needs to be healthy today and prevent painful and costly oral health problems down the road.

Oral Home Care
There's no question that preventive care is the foundation for a healthy smile. While there are other factors involved, poor oral hygiene is the primary cause of tooth decay, gum disease, and other oral health problems. For the best chance at a healthy smile for life, you should:
Brush your teeth thoroughly twice a day for two minutes
Floss every day, especially at night before you brush
Use mouthwash to kill germs, bacteria and bad breath
Swish with water after eating/drinking when brushing is not available
Eat a healthy balanced diet with minimal sugar and acidity
Visit your Cypress dentist twice a year for cleanings and exams
While we love seeing our patients regularly to catch up, that's not the only reason we want to see you twice every year. Your mouth is a micro-environment that plays an important role in your overall health. Your Cypress dentist, Dr. Kyle Todd, is in a unique position (inside your mouth) to detect disease and decay before it becomes problematic. We use advanced technology, including digital X-rays and intraoral cameras to screen for any changes or abnormalities that could be a sign of:
Hygiene and Cleanings
While we hope you've taken our advice and implemented a thorough oral homecare routine for you and your family, we realize that we're all human, and we're not perfect. (Even Dr. Todd forgets to floss sometimes.) That's why your regular cleanings and exams are so important. We have the tools and the training here at Cypress Springs Family Dentistry to take care of any plaque or tartar you may have left behind. Our hygiene team is:
Friendly to make your visits more comfortable
Gentle for pain-free cleanings
Thorough to make sure we don't miss a thing
If we do happen to find a cavity, don't panic. Most kids and adults will get at least one cavity filled in their life, and most of us will have more than one. It happens. The good news is, with modern techniques and materials, we can now fill cavities without the use of toxic mercury or unsightly metal. We use a tooth-colored resin that is:
Strong, durable and long-lasting
Won't expand and contract with temperatures changes (like metal fillings)
Blend in seamlessly with your natural teeth (unlike metal fillings)
Restore the tooth to health and prevent further decay
If you or your little one is prone to tooth decay and cavities, we can provide dental sealants for an added layer of protection to keep tooth decay at bay.
Did you know that gum disease affects nearly half of the American adult population, and according to the American Academy of Periodontology, is the leading cause of tooth loss? While you may think it's normal for your gums to bleed sometimes during regular brushing or flossing, the truth is, bleeding gums are a sign of early-stage gum disease or gingivitis. Left untreated, gingivitis will progress into advanced gum disease (periodontitis), which can cause:
Receding gums
Periodontal pockets
Tooth and bone loss
Increased risk for serious systemic diseases like heart disease, stroke and diabetes
The best thing you can do if you think you may have gum disease is to improve your daily oral hygiene routine and come see us at Cypress Springs Family Dentistry. We can provide:
Periodontal cleanings (deep cleanings under the gums)
Local antibiotics
Special periodontal products
Gum recession treatment
TMJ / TMD
Do you suffer from chronic headaches or migraines? Do you clench and grind your teeth? Does your jaw feel sore or tired, or pop, lock or click when opening or closing? You may be one of the millions of Americans suffering from TMJ or TMD, and you may not even know it.
At Cypress Springs Family Dentistry, we have a safe, non-invasive, affordable, and highly effective treatment option for you with oral appliance therapy. Oral appliance therapy involves a custom mouth guard worn during sleep to prevent the teeth grinding and clenching, and the TMJ tension that is causing your pain.
The benefits of oral appliance therapy include:
Simple, non-invasive treatment
A custom oral appliance is comfortable and convenient
Prevents teeth grinding and clenching
Prevents pain before it starts
Effective and affordable solution
If you're looking for a safe and effective TMJ treatment without the use of prescription pain medication or invasive surgery, we would love to speak with you about oral appliance therapy to help you find relief.
Mouthguards
If you or your little one is involved in any contact sports, we highly recommend using a mouthguard to protect your teeth. Not only do mouthguards prevent tooth loss from sports injuries, but they can also reduce the risk of concussions. While you can buy stock mouthguards at the store, a custom mouthguard from your Cypress dentist offers the most comfortable fit and the highest level of protection.
Compared with a stock mouthguard, a custom mouthguard from your Cypress dentist provides:
More comfortable fit
Highest level of protection
Prevents tooth loss and concussions
Protection from teeth grinding, clenching and TMJ
More durable and long-lasting
Better value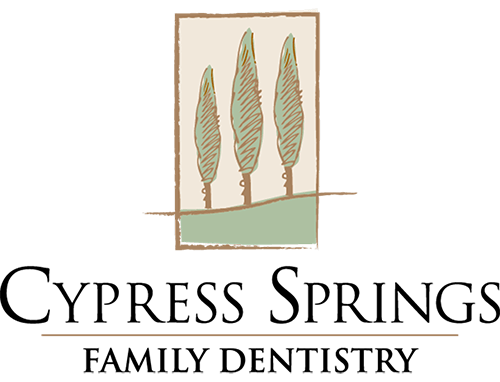 Request an Appointment